I get CURRYed away! Please don't un me. I used to associate curry with I…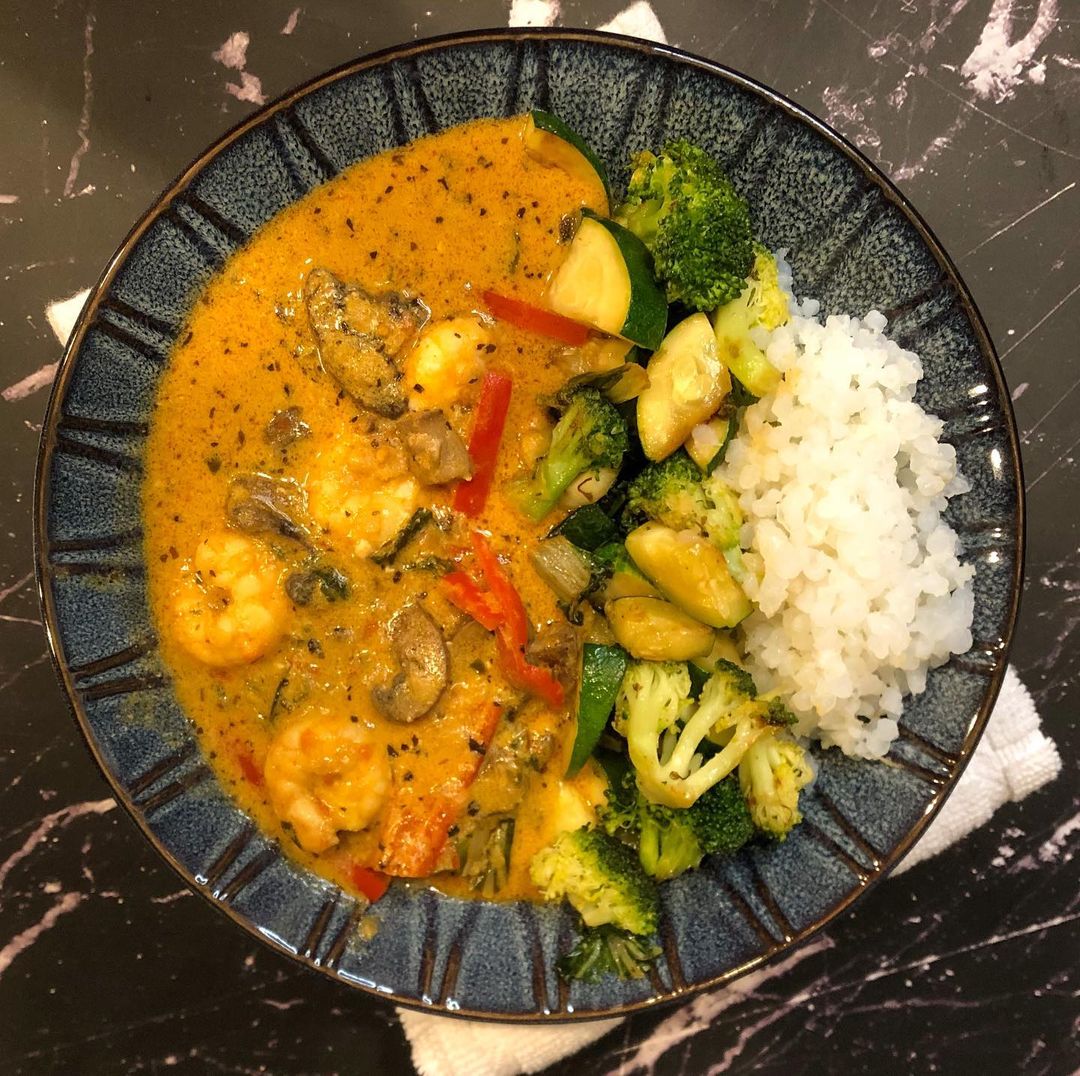 I get CURRYed away!
Please don't un me. I used to associate curry with Indian curry and lots of cumin. I HATE cumin.
Earlier this year, my boyfriend got me to try his red curry from momsiam 2, and I was hooked.
Pictured: Thai hot red curry with shiritaki rice and veggies. This had SO MUCH FLAVOR, wholesome ingredients, and it doesn't hurt that it was ready in under 30 minutes.
Did you know that shiritaki rice and noodles have zero carbs and almost no calories? They fit right in with this dish, despite the slightly funky initial smell and texture. I know that didn't exactly sell ya, but just trust me okay?!
First you need to RUN, don't walk! to getcha some yaisthai red curry sauce. It's packed with goodness. Scroll 👉🏼 to see all the deets. I ordered mine from thrivemarket, along with the shiritaki.
For dinner, you need 1 bag of shrimp, a jar of the Yai Thai, a 1/2 can of coconut milk (unless you like melt-your-face-off spicy), your choice of rice (regular, shiritaki, or cauliflower), and any optional veggies.
Sauté your shrimp in butter or ghee. Pour in your jar of Yai Thai sauce. You could technically mix it and stop there, and you'd have yourself a 15 minute dinner. But let me tell ya-this stuff is HOT, so I added some coconut milk to not only to cut the heat, but to give it the soupier consistency I crave.
I added some red bell pepper, mushrooms, and chopped bok choy to the curry pot. But you do YOU. Bring it all to a boil then simmer until your veggies are tender. The only thing I was missing is some fresh basil leaves stirred in at the end. Optional: sauté up some veggies you like to add to the bowl.
Okay, back to the shiritaki rice. All you have to do is cut the bag open, drain it, and rinse it well. Ignore the smell and trust that it won't linger. Put in a bowl and pop it in the microwave for a couple minutes with a dab of butter or ghee on top. Stir it around then drain it again. The texture is admittedly a bit like tapioca balls. But if you like your rice SWIMMING in the sauce like I do, you'll barely notice when you scoop a spoon of sauce with some shiritaki rice in it.