Salmon, sweet potato and kale bowls with a smoky citrus sauce. This meal is ab…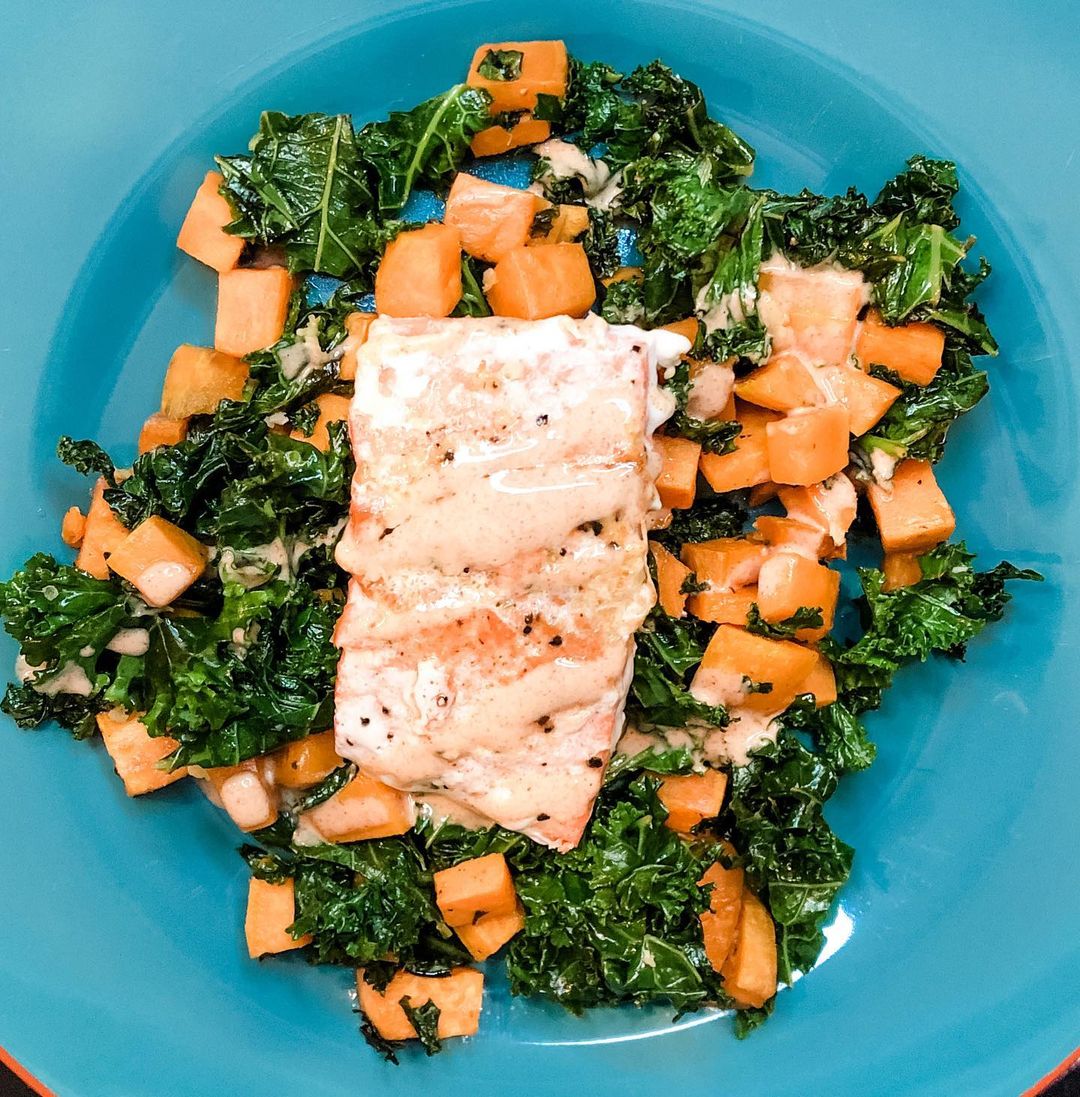 Salmon, sweet potato and kale bowls with a smoky citrus sauce.
This meal is absolutely delicious. It is spicy, smoky, sweet and savory-all in the same bite. Not to mention it is made of super wholesome ingredients and can be thrown together in 30 minutes.
Start by preheating your oven to 375. Peel and chop your sweet potatoes (I use one small-medium potato per desired serving). Gently toss in a bit of oil and chili salt from villagegardenrva. You can substitute a tiny bit of cayenne if you aren't so fortunate to have that in your pantry. You should also go order the "pow wow" grinder from their website NOW! Bake for 25-30 minutes or until tender. While your potatoes are roasting, prep your sauce.
Use 3 parts mayo to one 1 part fresh squeezed lemon juice as your base. Add lots of smoked paprika, cayenne pepper to taste, and a lil bit of something sweet to cut the zing. I added a pump of skinnymixes simple syrup. You could use stevia, agave or honey for paleo, or some fresh squeezed orange juice for whole 30. I've made it with all of the above except honey and it always turns out great. Whisk and adjust until you get the perfect smoky-spicy sweetness. Cover and refrigerate.
Next, prep your salmon and kale. Heat some oil in a large skillet. Pat your salmon dry, top with garlic powder, salt, and pepper. Dab the teeniest bit of oil on top and rub to form a paste. Sear in the pan for about 4-5 minutes per side or until done. Remove and set aside. In the remaining oil, squeeze in some fresh lemon juice and 2 cloves of fresh minced garlic. Dump way more kale than you think you need in, stems removed. Add a sprinkle of salt and onion powder. Toss together until slightly wilted.
Add roasted sweet potatoes to the pan and combine. Put your veggies on a plate, top with your salmon and a drizzle of your sauce, and enjoy!