Tonight's is Pad Thai! Made with shirataki noodles. These noodles have ZERO ca…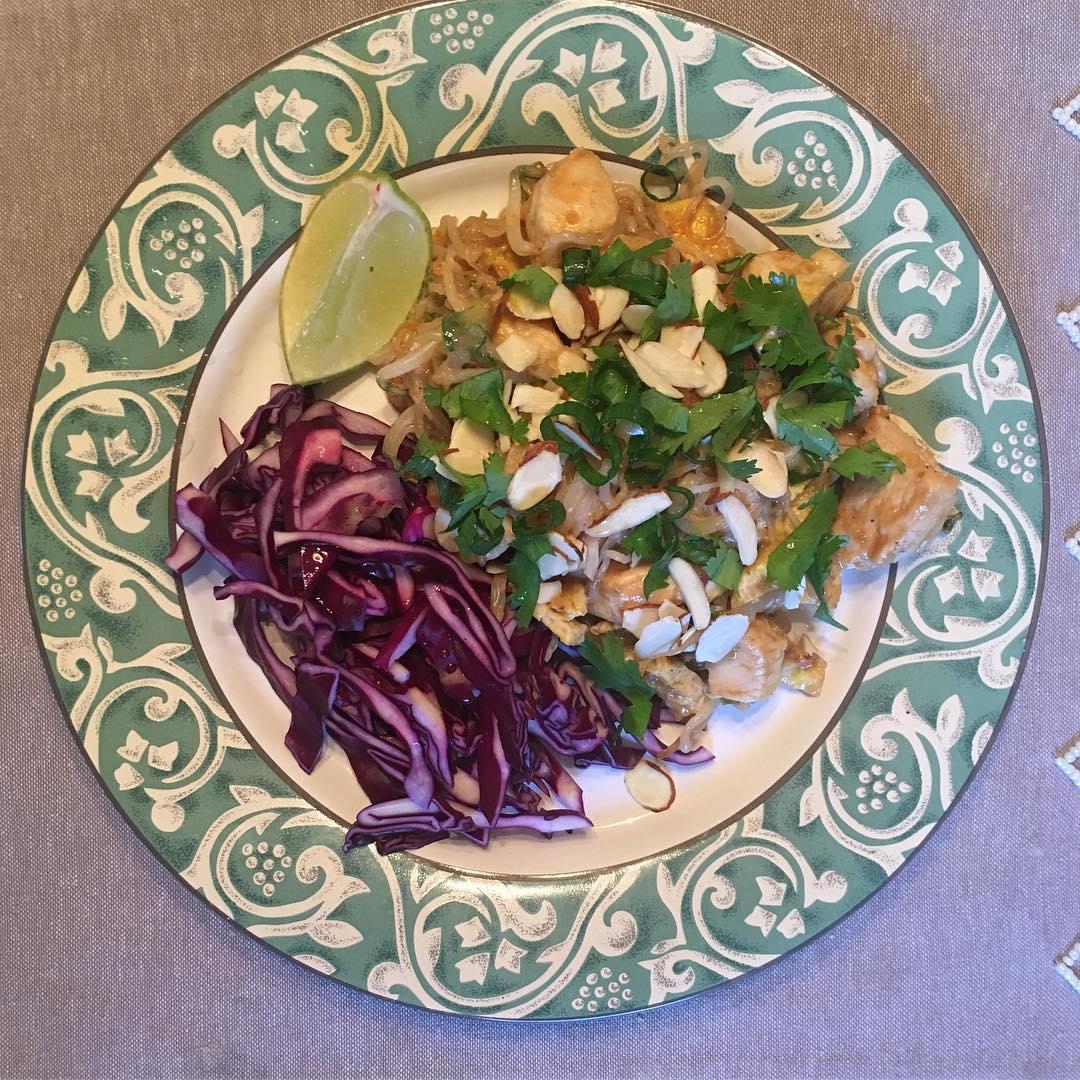 Tonight's is Pad Thai! Made with thrivemkt shirataki noodles. These noodles have ZERO carbs/calories and I have NO IDEA where they've been all my life! This dish is absolutely delicious and I love the color and the cruciferous crunch the cabbage adds to it.
For the Pad Thai:
3 packs shirataki noodles rinsed well, boiled for 3 minutes, then dried in a hot pan (no oil, turning constantly for about 10 minutes to remove excess liquid. This process takes the funky smell away! Just be sure not to dry them out)
2 small chicken breasts, cubed
3 eggs, made into a thin omelet then thinly sliced
3 green onions, thinly sliced and separated into greens and whites
2 cups mung bean sprouts
For the sauce:
1/4 cup fish sauce
1 tbsp coconut aminos
1 tbsp sanbal olek, sriracha, or other hot sauce of choice
3 cloves crushed garlic
3 tbsp cashew or peanut butter
1 tbsp raw honey
For topping: toasted sliced almonds, cilantro, lime wedges, green part of onions, shredded red cabbage.
Prepare noodles and set aside. Mix together all ingredients to make the sauce and set aside. Whip eggs and make into a very thin omelet. Slice and set aside. Saute chicken in ghee or oil of choice. Add in whites of onions and continue cooking until tender. Add in bean sprouts, eggs, noodles, and sauce.
While pad thai is warming, toast almonds over medium heat on a dry pan, gently and frequently turning until browned. Once warmed, plate and top as desired. Don't forget a generous squeeze of fresh lime!